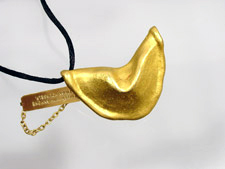 In the 1970's Miriam Haskell made some fun fortune cookie necklaces with various sayings. The back of the chain was signed Haskell. They were hung on black silk cords. This necklace has a cookie with the fortune "Never sleep with anyone crazier than yourself"
Here is a list of some of the fortunes found in these cute cookies:
A thing not looked for is seldom found
Life is a song. Love is the music
Always know where the exit is
Life is what happens when you're making other plans
You may give without loving but you cannot love without giving
The best thing to hold onto in this world is each other
By the time you are able to make ends meet, somebody moves the ends.
A path without obstacles probably leads nowhere
Don't ever confuse motion with progress
If everything seems to be coming your way, you're probably in the wrong place
The thing about doing nothing is that you never know when you're finished
Life is a song, Love is the music